Derpy Squid Tower
The Derpy Squid tower is a structure in derpy squid mod. It has bosses of squid army, and is also the fortress of 
Squiddoesminecraft
. It has a total of 12 bosses: 
SquidSolace
, 
Squidil40
, 
SquidSorcerer
, 
KermitplaysSquidcraft
, 
SSquidy
, 
FluffytheSquid
, 
Squidyhuskips
, 
Squidlox
,
BajianSquidia
, 
SquidMU
,  and Squiddoesminecraft. After you defeat Squiddoesminecraft, you can battle 
SquiddoesMutant
.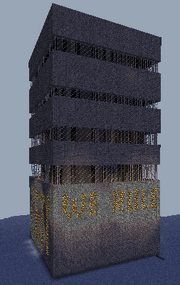 Ad blocker interference detected!
Wikia is a free-to-use site that makes money from advertising. We have a modified experience for viewers using ad blockers

Wikia is not accessible if you've made further modifications. Remove the custom ad blocker rule(s) and the page will load as expected.